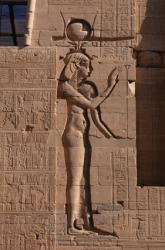 The Egyptian goddess Isis.
abbreviation
ISIS stands for Islamic State in Iraq and Syria and is an extremist militant group that rules by Wahhabi/Salafi law. In Arabic, the group is also known as Daesh.

An example of ISIS is the terrorist group that is known for kidnapping western journalists and aid workers as part of their tactics.
noun
Isis is defined as the Ancient Greek goddess of fertility in Egyptian mythology.

An example Isis is a statue or carving with the horns of a cow and a solar disk over her head.
---
Isis
Egypt. Myth.
the goddess of fertility, sister and wife of Osiris, typically represented with a cow's horns surrounding a solar (or lunar) disk
Origin of Isis
Classical Latin from Classical Greek
Literary
Thames, esp. at, & west of, Oxford
---
Isis
noun
Mythology
An ancient Egyptian goddess of fertility and magic who was the sister and wife of Osiris.
Origin of Isis
Latin
&Imacron;sis
from
Greek
from
Egyptian
'st
Isis
---
isis

Origin
Latin, the goddess Isis, from Ancient Greek.
Abbreviations
(Islamism) Initialism of Islamic State of Iraq and Syria (a terrorist group)
---