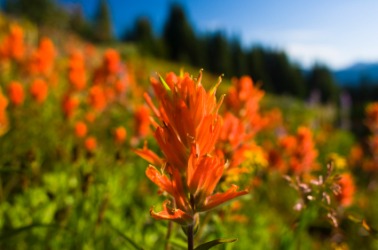 Indian paintbrush flowers.
---
Indian paintbrush
☆
any of a large genus (Castilleja) of plants of the figwort family, with brilliantly colored orange or red flowers and red or yellow upper leaves
---
Indian paintbrush
noun
Any of various partly parasitic plants of the genus Castilleja, having spikes of flowers surrounded by showy, brightly colored bracts. Also called painted cup.
See orange hawkweed.
---
Indian paintbrush
---