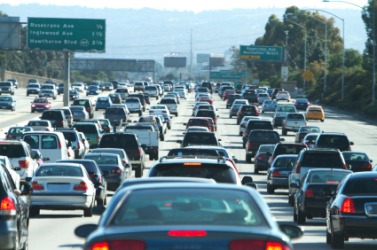 Inbound traffic on a city freeway.
adjective
The definition of inbound is something that moves inward.

An example of inbound is the freeway that goes toward the city center.
---
inbound
traveling or going inward

Basketball

inbounds
Basketball
to put (the ball) in play onto the court from out of bounds
---
inbound
adverb
adjective
Bound inward; incoming: a subway traveling inbound; inbound commuter traffic.
transitive verb
in·bound·ed, in·bound·ing, in·bounds
To put (the ball) into play by passing it from out of bounds to a teammate on the court.
---
inbound

Adjective
(comparative more inbound, superlative most inbound)
Coming in, heading inwards
Verb
(third-person singular simple present inbounds, present participle inbounding, simple past and past participle inbounded)
(basketball) To pass a ball inbounds

Smith inbounds the ball to Johnson.
Noun
(plural inbounds)
(logistics) An inbound shipment.
---