Illinois
[il′ə no̵i′; occas., -no̵iz′]
noun
Illinois is defined as a member of the group of Native Americans who lived in North Illinois, South Wisconsin and parts of Missouri and Iowa or the language of these people, or a midwestern state in the United States and a 273 mile river that flows through this state into the Mississippi River.

An example of an Illinois is a Native American tribe member from South Wisconsin who spoke the Algonquin language.
An example of Illinois is the state of which Chicago is the capital.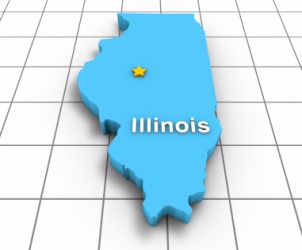 A 3d rendering of the state of Illinois.
---
Illinois definition by Webster's New World
Midwestern state of the U.S.: admitted, 1818; 55,584 sq mi (143,961 sq km); pop. 12,419,000; cap. Springfield: abbrev. IL or Ill

river in Ill., flowing from southwest of Chicago into the Mississippi, near St. Louis: c. 273 mi (439 km)
Origin: French earlier also Ilinoués ; from name in an unidentified Algonquian language: perhaps origin, originally meaning ordinary speaker
Webster's New World College Dictionary Copyright © 2010 by Wiley Publishing, Inc., Cleveland, Ohio. Used by arrangement with John Wiley & Sons, Inc.
---
Illinois definition by American Heritage Dictionary
noun
pl.
Illinois
Illinois
a. A confederacy of Native American peoples formerly inhabiting southern Wisconsin, northern Illinois, and parts of eastern Iowa and Missouri, with present-day descendants mostly in Oklahoma.

b. A member of this confederacy.

The Algonquian language of the Illinois.
Origin: French, of Algonquian origin.
Abbr. IL or Ill.
A state of the north-central United States. It was admitted as the 21st state in 1818. The area was explored by the French in the late 1600s, ceded by France to the British in 1763, and ceded by them to the newly formed United States in 1783. Springfield is the capital and Chicago the largest city. Population: 12,900,000.
Related Forms:
The American Heritage® Dictionary of the English Language, 4th edition Copyright © 2010 by Houghton Mifflin Harcourt Publishing Company. Published by Houghton Mifflin Harcourt Publishing Company. All rights reserved.
---
Illinois - Cultural Definition
State in the north-central United States bordered on the north by Wisconsin, the east by Indiana, the south by Kentucky, and the west by Missouri and Iowa. Its capital is Springfield, and its largest city is Chicago.
Known as the "Land of Lincoln" because Abraham Lincoln began his political career there.
Illinois
Variant of Illinois