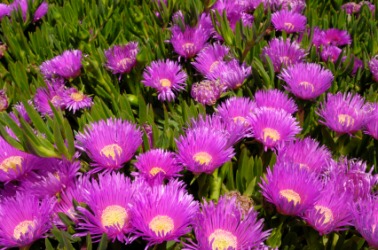 Flowering ice plants.
---
ice plant
a succulent Old World plant (Mesembryanthemum crystallinum) of the carpetweed family, having thick leaves covered with thin, glistening cells that look like ice crystals
---
ice plant
noun
Any of several succulent plants chiefly of the family Aizoaceae, especially the annual Mesembryanthemum crystallinum, native to southern Africa and having white or pink flowers, fleshy leaves, and stems covered with glistening papillae.
---
ice plant
Noun
(plural ice plants)
a succulent annual, Carpobrotus edulis, of the stone plant family, having pale pink flowers and fleshy leaves covered with glistening hairs
Noun
(plural ice-plants)
Alternative spelling of ice plant.
---