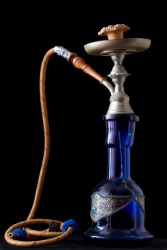 An example of a hookah.
---
hookah definition by Webster's New World
or hooka
noun
a kind of water pipe associated with the Middle East, with a long flexible tube for drawing the smoke through water in a vase or bowl and cooling it
Origin: Arabic ḥuqqa, pipe for smoking, vase
Webster's New World College Dictionary Copyright © 2010 by Wiley Publishing, Inc., Cleveland, Ohio. Used by arrangement with John Wiley & Sons, Inc.
---
hookah definition by American Heritage Dictionary
noun
An Eastern smoking pipe designed with a long tube passing through an urn of water that cools the smoke as it is drawn through. Also called hubble-bubble, narghile.
Origin: Urdu, from Arabic ḥuqqa, small box, the hookah's water urn, from ḥaqqa, to be true, be suitable; see ḥqq in Semitic roots.