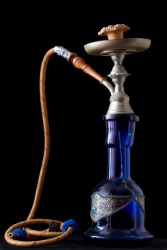 An example of a hookah.
---
hookah
or hooka
noun
a kind of water pipe associated with the Middle East, with a long flexible tube for drawing the smoke through water in a vase or bowl and cooling it
Origin of hookah
Arabic
ḥuqqa
, pipe for smoking, vase
---
hookah
noun
An Eastern smoking pipe designed with a long tube passing through an urn of water that cools the smoke as it is drawn through. Also called hubble-bubble, narghile, shisha.
Origin of hookah
Urdu
&hlowdot;uqqa
,
small box, hookah water urn
, from Persian, from Arabic,
small box or jar
, from
&hlowdot;aqqa
,
to be suitable
; see
&hlowdot;qq
in Semitic roots.
---
hookah
---