noun
The definition of a hearse is a vehicle that transports a coffin carrying the dead.

The big car driven by an undertaker that the deceased's coffin goes in at a funeral is an example of a hearse.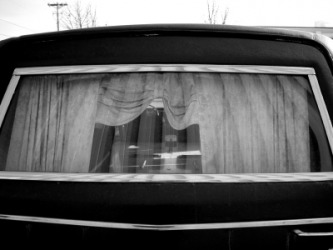 The rear window of a hearse.
---
hearse definition by Webster's New World
noun
an automobile or carriage, used in a funeral for carrying the corpse

a framelike structure above a coffin or tomb, for candles, hangings, etc.
a triangular framework to hold candles at Tenebrae

Archaic

a bier or coffin
Origin: Middle English herce ; from Old French a harrow, grated portcullis ; from Classical Latin hirpex, a large rake with iron teeth ; from dial (Sabine) irpus, wolf (hence, literally , wolf-tooth device)
Webster's New World College Dictionary Copyright © 2010 by Wiley Publishing, Inc., Cleveland, Ohio. Used by arrangement with John Wiley & Sons, Inc.
---
hearse definition by American Heritage Dictionary
noun
A vehicle for conveying a coffin to a church or cemetery.
Roman Catholic Church A triangular candelabrum used at Tenebrae during Holy Week.
A framelike structure over a coffin or tomb on which to hang epitaphs.
Origin: Middle English herse, a harrow-shaped structure for holding candles over a coffin, from Old French herce, from Medieval Latin hercia, from Latin hirpex, hirpic-, harrow, probably from Oscan hirpus, wolf (alluding to its teeth).