hamburg
[ham′bərg]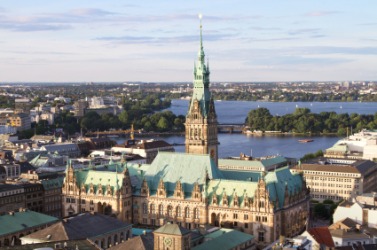 The rooftops of Hamburg.
---
hamburg
noun
any of a variety of small chicken of European origin, having dark plumage with white markings and dark-blue legs
Origin of Hamburg
after
Hamburg
seaport & state of N Germany, on the Elbe River: 292 sq mi (756 sq km); pop. 1,603,000
---
hamburg
A city of northern Germany on the Elbe River northeast of Bremen. Founded by Charlemagne in the early ninth century, the city quickly grew in commercial importance and in 1241 formed an alliance with L&udie;beck that became the basis for the Hanseatic League. Today Hamburg is a major port and financial, industrial, and cultural center.
---
hamburg
Variant of hamburger
☆
noun
ground beef
a fried, broiled, or baked patty of such meat
a sandwich made with such a patty, usually in a round bun
Origin of hamburger
earlier
Hamburg steak
, after
Hamburg