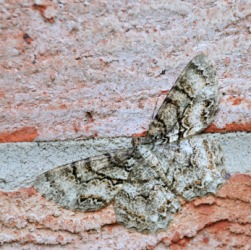 A female gypsy moth.
---
gypsy moth
a European moth (Lymantria dispar), brownish (males) or whitish (females), now common in the E U.S.: its larvae feed on leaves, doing much damage to forest and shade trees
---
gypsy moth
noun
A Eurasian moth (Lymantria dispar) whose caterpillars feed on foliage and are destructive to trees and shrubs especially in the northeast United States. It was introduced into the United States in the late 1800s.
Informal A Republican in the US House of Representatives, representing a northeast or midwestern urban area, who sometimes supports moderate legislation and causes.
gypsy moth
female (top) and male (bottom) gypsy moths
Lymantria dispar
---
gypsy moth
Noun
(plural gypsy moths)
Lymantria dispar, a species of moth.
---