GPS

GPS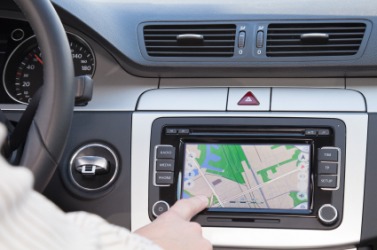 GPS navigation in a car.
abbreviation
GPS is an abbreviation that means gallons per second, or is short for global positioning system, which is a network of satellites which can be used to locate vehicles and people.

An example of GPS is how a person can be tracked while driving from New York to California.
---
gps
GPS
Global Positioning System: an electronic system using a network of satellites to indicate on a receiver the position of a vehicle, ship, person, etc.
---
gps
abbreviation
gallons per second
GPS
abbreviation
Global Positioning System
---
gps - Computer Definition

A satellite-based navigation system comprising a constellation of 24 Navstar satellites launched by the United States Department of Defense from 1978 to 1994.The satellites are in multiple medium-earth orbital (MEO) paths at altitudes of approximately 11,000 miles, and are positioned such that signals from six of them can be received by a GPS terminal at virtually any point on the Earth's surface at any time. The satellites constantly broadcast timing signals based on atomic clocks that are accurate to within three nanoseconds.The signals are broadcast on two frequencies -- the L1 civilian signal and the L2 military signal.The civilian signal is transmitted in the UHF band at 1575.42 MHz, which requires line-of-sight (LOS).The terminals receive those signals and correlate them based on their knowledge of the satellites' positions, adjusting for propagation delay. Assuming that three signals are received, the terminal can determine its two-dimensional position within a few meters of the exact longitude (x) and latitude (y) and. Signals from four satellites allow determination of its three-dimensional position, including altitude (z). See also LOS, MEO, propagation delay, and satellite.
---
(1) (General Print Server) An IBM mainframe feature that lets TN3270 clients access LPD/LPR printers via the SNA/VTAM network. See TN3270 and VTAM.
(2) (Global Positioning System) A satellite-based radio navigation system run by the U.S. Department of Defense, officially known as NAVSTAR GPS (see also GLONASS, Galileo and Beidou). Created for the military, the GPS system is not only used by consumers, but in numerous industries, including agriculture, oil, gas, mining and construction. For consumers, it means no more asking directions when GPS receivers are built into vehicles (see in-dash navigation) or into mobile units that can be taken anywhere (see portable GPS, CarPlay and Open Automotive Alliance). Three or Four Satellite Signals Required The GPS system was designed so that signals from at least four satellites would be on the horizon at all times, sufficient for the GPS receiver to compute the current latitude, longitude and elevation anywhere on earth to within a range of 15 to 70 feet (see latitude). If signals from only three satellites are received, the location can be derived, but not elevation. If less than three, the system cannot compute its current location unless it is tied to the speed of the vehicle (see in-dash navigation). The Satellite System In six different orbits approximately 12,500 miles above the earth, the system's 24 medium-earth orbit (MEO) satellites circle the earth every 12 hours. They constantly transmit their current time based on atomic clocks and current location on two frequencies in the L-band labeled L1 (1575.2 MHz) and L2 (1227.6 MHz). Most receivers pick up L1, while more advanced receivers pick up both signals for greater accuracy by determining and removing ionospheric delays. A GPS receiver calculates the distance to the satellites by comparing the times the transmitted signals were sent with the times received. By knowing the precise locations of the satellites at any given moment, the receiver uses trilateration, the navigation technique of ship captains for centuries, to pinpoint its own location. See triangulation. First launched in 1978, GPS satellites have been replaced several times with newer models. There are also numerous government and commercial monitoring networks around the world that use earth-based reference stations to improve accuracy. For example, in agriculture, such systems enable farm equipment to automatically plant ultra-precise rows of crops within inches (see GPS augmentation system). See social navigation, vehicle tracking, reality view, GPS augmentation system, mobile positioning, LORAN, MEO, GNSS, Galileo and geocaching.
---