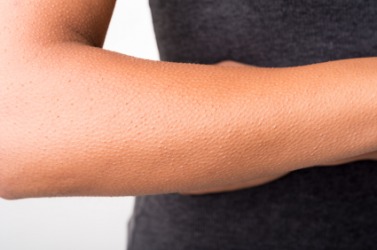 An arm covered with goose bumps.
noun
The definition of goose bumps is what occurs when the hairs on your arms or body stand up automatically because you are cold or scared or because your skin gets irritated.

An example of goosebumps is when the hair stands up on your arm because the room is freezing.
---
goose bumps
a roughened condition of the skin in which the papillae are erected, caused by cold, fear, etc.
---
goose bumps
or goose·bumps
plural noun
Momentary roughness of the skin caused by erection of the papillae in response to cold or to a strong emotion, such as fear or awe. Also called goose flesh . Also called goose pimples .
---
goose-bumps

Noun
plural form of goose bump
---