glogg
[glŏg]
also
glgg
[glœg]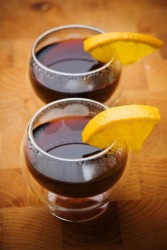 Two cups of glogg.
---
glogg definition by American Heritage Dictionary
also glögg
noun
A hot punch made of red wine, brandy, and sherry flavored with almonds, raisins, and orange peel.
Origin: Swedish glögg, alteration of glödgat (vin), mulled (wine), past participle of glödga, to mull, from glöd, ember, from Old Norse glodh; see ghel-2 in Indo-European roots.
glogg
Variant of glögg
or glogg
noun
a Swedish drink made by heating wines, brandy, etc. with sugar and spices and adding raisins and almonds as a garnish
Origin: Swedish glögg ; from glödga, to mull, literally , to burn ; from OSwed ; from glöth, glowing coal, akin to Old English glæd: see gleed