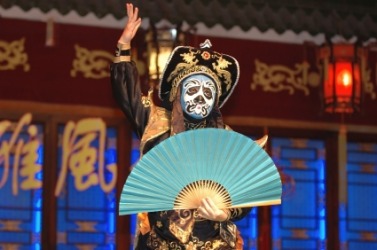 Opera is an example of Gesamtkunstwerk.
noun
Gesamtkunstwerk, the artistic theory of Richard Wagner, is defined as a combination of the performing arts and decor into a kind of theater.

An example of Gesamtkunstwerk is opera.
---
Gesamtkunstwerk
in the aesthetic theory of Richard Wagner, an ideal synthesis of performing arts, including music, drama, decor, etc., into a kind of total theater, as in opera
Origin of Gesamtkunstwerk
Ger, synthesis of the arts from
gesamt
, total +
kunstwerk
, work of art
---
gesamtkunstwerk

Noun
(plural gesamtkunstwerks)
Alternative capitalization of Gesamtkunstwerk.
---