verb
Genuflect is defined as to bend at the knee, or to touch one knee to the ground, especially in a respectful or religious way.

An example of genuflect is to kneel before the tabernacle at church.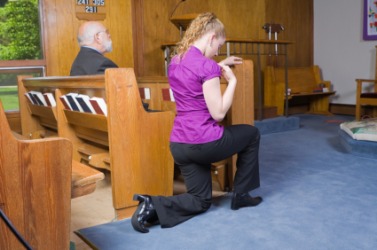 A woman genuflects in church.
---
genuflect definition by Webster's New World
intransitive verb
to bend the knee, as in reverence or worship
to act in a submissive or servile way
Origin: Ecclesiastical Medieval Latin genuflectere ; from Classical Latin genu, knee plush flectere, to bend: see flex
Webster's New World College Dictionary Copyright © 2010 by Wiley Publishing, Inc., Cleveland, Ohio. Used by arrangement with John Wiley & Sons, Inc.
---
genuflect definition by American Heritage Dictionary
intransitive verb
gen·u·flect·ed
,
gen·u·flect·ing
,
gen·u·flects
To bend the knee or touch one knee to the floor or ground, as in worship.
To be servilely respectful or deferential; grovel.
Origin: Late Latin genūflectere : Latin genū, knee; see genu-1 in Indo-European roots + Latin flectere, to bend.
Related Forms: