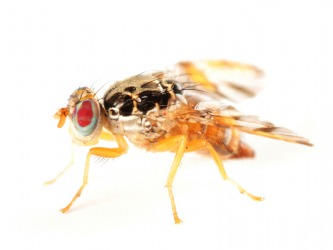 A Mediterranean fruit fly.
noun
The definition of a fruit fly is a small fly that feeds on fruits and vegetables. The common name for this insect is often spelled "fruitfly." However, according to the Entomological Society of America (ESA) the correct common name of this insect is "fruit fly."

An example of a fruit fly is the small fly that flies around and lands on a bowl of ripe fruit.
---
fruit fly
any of a family (Tephritidae) of small dipterous flies whose larvae feed on fruits and vegetables
drosophila
---
fruit fly
noun
Any of various small flies of the family Drosophilidae, having larvae that feed on fermenting or decaying plant material, especially the common species Drosophila melanogaster, often used in genetic research. Also called pomace fly . Also called vinegar fly .
Any of various flies of the family Tephritidae, having larvae that hatch in plant tissue and are pests of fruit and vegetable crops.
Offensive Slang A woman who enjoys socializing with gay men.
---
fruit-fly

---