noun
Four eyes is defined as an insulting expression that is defined as people who wear eyeglasses.

An example of four eyes is what the schoolyard bullies say when a student shows up with his new glasses for the first time.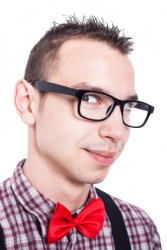 A person with glasses might be called four eyes.
---
Four Eyes
Slang
a person wearing eyeglasses: a term of derision, used esp. in direct address
---
Four Eyes
---
Four Eyes
Noun
(plural four-eyes)
(idiomatic, derogatory) A person who wears spectacles.
---