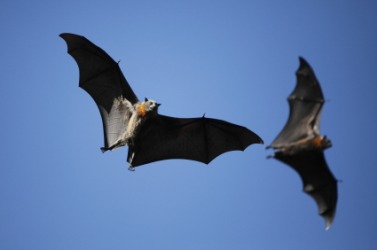 A pair of flying foxes.
---
flying fox
any of a genus (Pteropus, family Pteropodidae) of fruit bats with a foxlike head, living in Africa, Australia, and S Asia
---
flying fox
noun
Any of various fruit bats chiefly of the genus Pteropus, having a foxlike muzzle and small, pointed ears.
flying fox
spectacled flying fox
Pteropus conspicillatus
---
flying fox
Noun
(plural flying foxes)
A large Australasian bat, of the genera Pteropus or Acerodon, having a fox-like face.
The cyprinid fish Epalzeorhynchos kalopterus.
---