florentine
[

-ən tēn′, -tīn′

]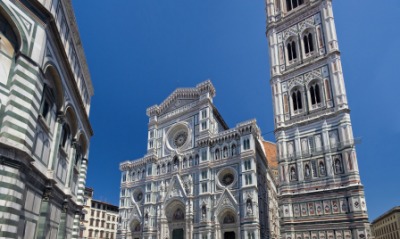 A Florentine cathedral.
---
florentine definition by Webster's New World
adjective
of Florence, Italy, or its people or culture
designating a metal finish, as for jewelry, with finely incised lines that impart a dull luster
prepared or served with cooked spinach, and, often, covered with a light cheese sauce: chicken Florentine
noun
a person born or living in Florence, Italy
Webster's New World College Dictionary Copyright © 2010 by Wiley Publishing, Inc., Cleveland, Ohio. Used by arrangement with John Wiley & Sons, Inc.
---
florentine definition by American Heritage Dictionary
adjective
Of or relating to Florence, Italy.
often florentine Having or characterized by a dull chased or rubbed finish. Used of gold.
Prepared, cooked, or served with spinach.
noun
A native or inhabitant of Florence, Italy.
Origin: Latin Flōrentīnus, from Flōrentia, Florence, Italy.
florentine
Variant of Florentine
adjective
of Florence, Italy, or its people or culture
designating a metal finish, as for jewelry, with finely incised lines that impart a dull luster
prepared or served with cooked spinach, and, often, covered with a light cheese sauce: chicken Florentine
noun
a person born or living in Florence, Italy