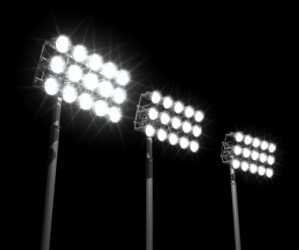 Floodlights at a stadium.
---
floodlight
noun
an artificial light of high intensity, usually with a reflector that causes it to shine in a broad beam
such a beam of light
---
floodlight
noun
Artificial light in an intensely bright and broad beam.
A unit that produces a beam of intense light; a flood.
transitive verb
flood·light·ed
or
flood·lit
,
flood·light·ing
,
flood·lights
To illuminate with a floodlight.
---
floodlight
Noun
(plural floodlights)
(chiefly in the plural) Powerful artificial illumination with a broad beam, especially in a series of units on pylons used to illuminate a sports ground.
Verb
(third-person singular simple present floodlights, present participle floodlighting, simple past and past participle floodlighted)
To enlighten or illuminate with floodlight.
---