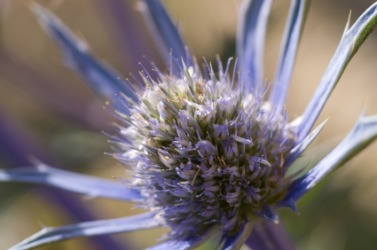 An example of a plant belonging to the genus eryngo.
Licensed from iStockPhoto
---
noun
pl.
eryngoes
any of a genus (Eryngium) of plants of the umbel family, with flowers in dense heads and usually stiff, spiny leaves

Obsolete

the candied root of the sea holly, formerly used as an aphrodisiac
Origin: via Spanish or Italian eringio ; from Classical Latin eryngium ; from Classical Greek eryngion, diminutive of ēryngos, probably ; from ear, eros, spring, hence spring flower
Webster's New World College Dictionary
Copyright © 2010 by Wiley Publishing, Inc., Cleveland, Ohio.
Used by arrangement with John Wiley & Sons, Inc.
---
noun
pl.
e·ryn·goes
Any of several plants of the genus Eryngium having spiny leaves and dense clusters of small bluish flowers.
Origin: Alteration of Latin ēryngion, sea holly, from Greek ērungion, diminutive of ērungos.
The American Heritage® Dictionary of the English Language
, 4th edition Copyright © 2010 by Houghton Mifflin Harcourt Publishing Company. Published by Houghton Mifflin Harcourt Publishing Company. All rights reserved.