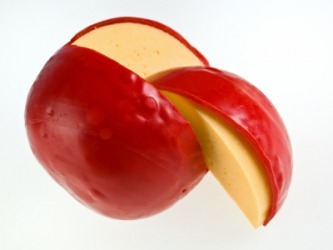 A ball of Edam cheese.
---
Edam
noun
A mild, yellow Dutch cheese, pressed into balls and usually covered with red wax.
Origin of Edam
After
Edam, a town in the western Netherlands
.
---
Edam
Origin
Literally "the dam on the river Ye," and the river name literally means "river;" see ea.
---
Edam
Variant of Edam (cheese)
noun
a mild, yellow cheese, made in a round mold and usually having a coating of red paraffin
Origin of Edam (cheese)
after
Edam
, town in northwestern Netherlands, where origin, originally made