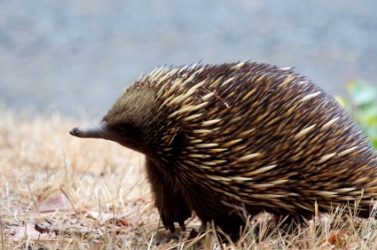 An Australian echidna.
---
echidna
noun
any of a family (Tachyglossidae) of small, toothless Australasian monotremes with a long, tapering snout and a sticky, extensible tongue; spiny anteater
Origin of echidna
Modern Latin ; from Classical Latin adder, viper ; from Classical Greek ultimately ; from Indo-European base an unverified form
eĝhi-
, snake from source German
egel
, leech
---
echidna
noun
Any of several nocturnal burrowing egg-laying mammals of the genera Tachyglossus and Zaglossus of Australia, Tasmania, and New Guinea, having a spiny coat, a slender snout, and an extensible sticky tongue used for catching insects. Also called spiny anteater.
Origin of echidna
Latin,
adder, viper
, from Greek
ekhidna
, from
ekhis
.
echidna
short-beaked echidna
Tachyglossus aculeatus
---
echidna
Noun
(plural echidnas or echidnae)
Any of the species of small spined monotremes in family Tachyglossidae, the four extant species of which are found in Australia and southern New Guinea.
Origin
Through Latin, from Ancient Greek ἔχιδνα (ekhidna). Compare ἐχῖνος (ekhinos, "hedgehog").
Proper noun
(Greek mythology) A female monster who, along with Typhon, mothered the vast majority of the famous monsters and creatures of Greek mythology.
Origin
From Ancient Greek Ἔχιδνα (Ekhidna, "Echidna"), from ἔχιδνα (ekhidna, "viper")
---