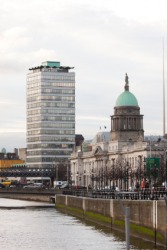 Baile Atha Cliath or Dublin.
---
Dublin
capital of Ireland: seaport on the Irish Sea: pop. 478,000

county in Leinster province, E Ireland, on the Irish Sea: 356 sq mi (922 sq km); pop. 1,025,000; county seat, Dublin
---
Dublin
The capital and largest city of Ireland, in the eastern part of the country on the Irish Sea. Founded by the Norse in the ninth century, it was under English control after 1171. In the 1900s, as Ireland gained its independence, Dublin emerged as a literary and cultural center.
Related Forms:
---
Dublin
Proper noun
The capital of the Republic of Ireland.
One of the counties of Ireland.
Origin
From Old Irish dubh ("black") + linn ("pond").
---