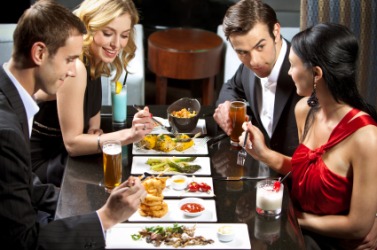 A double date at a restaurant.
---
double-date
☆
Informal
a social engagement shared by two couples
---
double-date
---
double-date
Noun
(plural double dates)
Two couples going on a (romantic) date together.
Verb
(third-person singular simple present double dates, present participle double dating, simple past and past participle double dated)
To go on a double date.
Verb
Alternative spelling of double date.
---
double-date
Variant of double date
☆
Informal
a social engagement shared by two couples