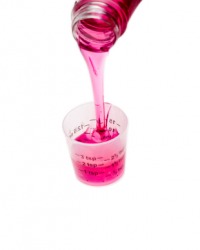 Medicine being poured into a measuring cup to ensure the right dosage.
---
dosage
noun
a dosing or being dosed
the system to be followed in taking doses, as of medicine: the prescribed dosage is teaspoon every hour
the amount used in a dose
---
dosage
noun
a. Administration of a therapeutic agent in prescribed amounts.

b. Determination of the amount to be so administered.

c. The amount so administered.

Addition of an ingredient to a substance in a specific amount, especially to wine.
---
dosage
Noun
(plural dosages)
The administration of a medication etc, in a measured amount; dosing
The measured amount so administered or added; the dose
---