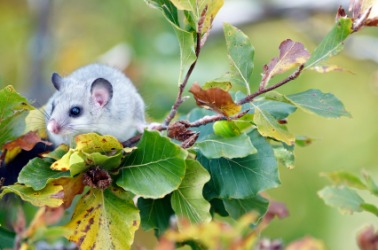 A small dormouse on a tree branch.
---
dormouse definition by Webster's New World
noun
pl.
dormice
any of a family (Gliridae) of small, furry-tailed, mostly tree-dwelling Old World rodents
Origin: Middle English dormous uncertain or unknown; perhaps altered by folk etymology (after mous, mouse) ; from Old French dormeuse, sleepy, sluggish ; from dormir: see dormant
Webster's New World College Dictionary Copyright © 2010 by Wiley Publishing, Inc., Cleveland, Ohio. Used by arrangement with John Wiley & Sons, Inc.
---
dormouse definition by American Heritage Dictionary
noun
Any of various small, squirrellike Old World rodents of the family Gliridae.
Origin: Middle English, probably alteration (influenced by mous, mouse) of Anglo-Norman dormeus, inclined to sleep, hibernating, from Old French dormir, to sleep; see dormant.