digitalis
[dij′i tal′is; also, -tā′lis]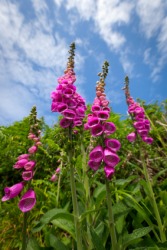 Digitalis, or foxglove flowers.
---
digitalis
noun
any of a genus (Digitalis) of plants of the figwort family, with long spikes of thimblelike flowers; foxglove
the dried leaves of a common digitalis plant (Digitalis purpurea) that usually has purple flowers
a medicine made from these leaves, used as a heart stimulant
Origin of digitalis
Modern Latin foxglove ; from Classical Latin
digitalis
, belonging to the finger ; from
digitus
, a finger, digit: so named (1542) by L. Fuchs (see fuchsia), from its thimblelike flowers, after the German name
fingerhut
, thimble
---
digitalis
noun
See foxglove.
A drug prepared from the dried leaves of Digitalis purpurea, used as a cardiac stimulant.
Origin of digitalis
Latin
digitālis
,
of a finger (from the finger-shaped corollas of foxglove)
, from
digitus
,
finger
; see
digit
.
---
digitalis
---