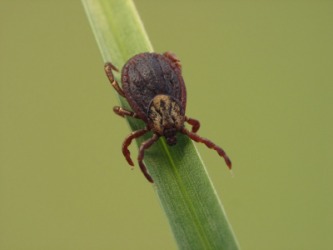 The deer tick.
---
deer tick
a tick that is parasitic on deer; esp., any of a genus (Ixodes) of ticks that transmit the spirochete causing Lyme disease
---
deer tick
noun
Either of two North American ticks (Ixodes scapularis or I. pacificus) that are parasitic on deer and other animals and transmit the infectious agents of certain febrile diseases, such as Lyme disease. Also called black-legged tick.
deer tick
Ixodes scapularis
---
deer tick
Noun
(plural deer ticks)
A hard-bodied tick, Ixodes scapularis, of the eastern and northern Midwestern United States, one of four species of tick that is carrier of Lyme disease.
---