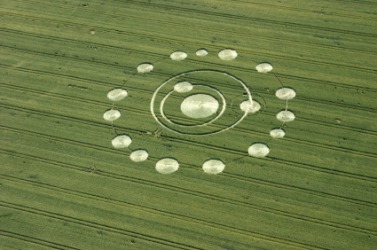 Crop circles in a field.
noun
The definition of a crop circle is a large, sometimes circular pattern created by the flattening of a crop in the fields, created by natural or supernatural causes.

An example of a crop circle is the pattern found in crops across southern England in the 1970s.
---
crop circle
any large, usually circular, pattern formed typically on farmland by the bending or crushing of upright crops and variously attributed to geological forces, alien spacecraft, hoaxers, etc.
---
crop circle
noun
A usually circular pattern or group of patterns occurring in a field as the result of the flattening of the stems of grain or other crops, often as a prank to claim extraterrestrial or paranormal origin.
---
crop-circle

---