Copenhagen
[kō′pən hā′gən, -hä′-; kō′pən hā′gən, -hä′-]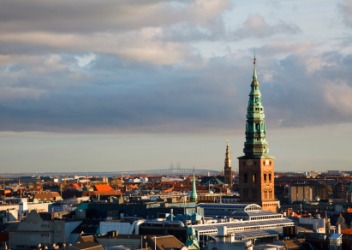 Rooftops of Copenhagen.
---
Copenhagen
capital of Denmark; seaport on the E coast of Zealand: pop. 626,000 (met. area, 1,353,000)
---
Copenhagen
The capital and largest city of Denmark, in the eastern part of the country on the eastern coast of Sjaelland. It was a trading and fishing center by the 11th century and became the capital in 1443.
---
Copenhagen
---