commensalism
com·men·sal·ism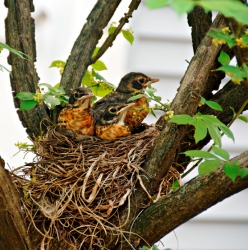 A bird nesting in a tree is an example of commensalism.
noun
The definition of commensalism is a relationship between two organisms where one is helped and the other is unaffected.

An example of commensalism is when a bird lives in a tree; the bird is helped by living in the tree because it has a place to build its nest and it is high up so protected from predators, but the tree is not affected.
---
commensalism
Biol.
a close association or union between two kinds of organisms, in which one is benefited by the relationship and the other is neither benefited nor harmed
---
commensalism
noun
A symbiotic relationship between two organisms of different species in which one derives some benefit while the other is unaffected.
---
commensalism

Noun
(plural commensalisms)
(biology) A sharing of the same environment by two organisms where one species benefits and the other is unaffected. An example is barnacles on whales.
The act of eating together; table fellowship.
---