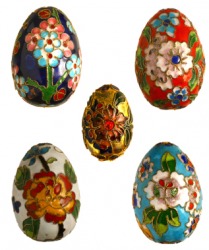 Cloisonné eggs.
---
cloisonné
adjective
designating or of a kind of enamel work in which the surface decoration is set in hollows formed by thin strips of wire welded to a metal plate
Origin of cloisonné
French literally , partitioned ; from
cloison,
partition ; from Vulgar Latin an unverified form
clausio
; from Classical Latin
clausus
: see close
---
cloisonné
Noun
cloisonné
Alternative spelling of cloisonne.

It was in the form of an equilateral triangle with the corners rounded and was made of blue cloisonné bordered in silver. — The Ruined Map translated by E. Dale Saunders in 1969 from the Japanese by Kobo Abé in 1967.
See also:
cloisonne
---