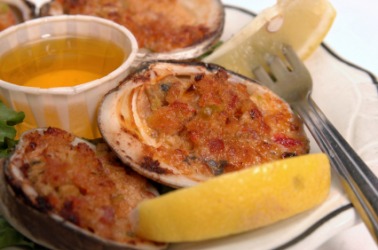 A dish of clams casino.
---
clams casino
broiled clams topped with garlic butter, bacon, bread crumbs, etc. and served in their bottom shells
---
clams casino
plural noun
Clams on the half shell typically topped with chopped green pepper, bacon, butter, and other ingredients and baked.
Origin of clams casino
Perhaps after The
Casino
,
a restaurant in Narragansett Pier, Rhode Island, where the dish is said to have been invented around 1917
.
---