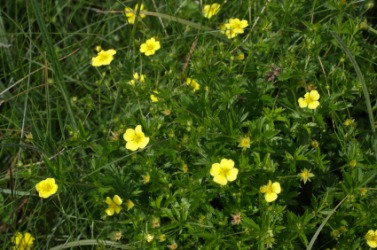 A field of yellow cinquefoil.
---
cinquefoil definition by Webster's New World
noun
any of a genus (Potentilla) of plants of the rose family, with white, yellow, or red flowers and fruit like a dry strawberry: some species have compound leaves with five leaflets arranged like the fingers on a hand

Archit.

a circular design made up of five converging arcs
Origin: Middle English cink foil ; from Old French cinquefoil ; from Italian cinquefoglie ; from Classical Latin quinquefolium ; from quinque, five plush folium, leaf: see foliate
Webster's New World College Dictionary Copyright © 2010 by Wiley Publishing, Inc., Cleveland, Ohio. Used by arrangement with John Wiley & Sons, Inc.
---
cinquefoil definition by American Heritage Dictionary
noun
Any of several plants of the genus Potentilla in the rose family, native chiefly to temperate and cold regions and having yellow or sometimes white or red flowers and compound leaves that in some species bear five leaflets.
Architecture A design having five sides composed of converging arcs, usually used as a frame for glass or a panel.
Origin: Middle English cinkfoil : cink, five; see cinque + foil, leaf (translation of Old French quintefeuille, from Latin quīnquefolium, translation of Greek pentaphullon); see foil2.