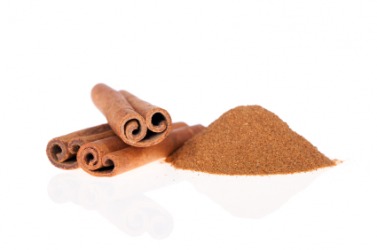 A pile of ground cinnamon next to a couple of cinnamon sticks.
---
cinnamon
noun
the yellowish-brown spice made from the dried inner bark of several trees or shrubs (genus Cinnamomum) of the laurel family, native to the East Indies and Southeast Asia
this bark
any tree or shrub from which this bark is obtained
yellowish brown
Origin of cinnamon
Middle English
cinamome
; from Old French ; from Classical Latin
cinnamomum
; from Classical Greek
kinnamōmon
; from Classical Hebrew (language)
qinnāmōn,
cinnamon
adjective
yellowish-brown
made or flavored with cinnamon
---
cinnamon
noun
a. The dried aromatic inner bark of certain tropical Asian trees of the genus Cinnamomum, especially C. verum and cassia (C. aromaticum), often ground and used as a spice.

b. A tree yielding this bark.

A light reddish brown.
adjective
Flavored with cinnamon.
Of a light reddish brown.
Origin of cinnamon
Middle English
cinamome
, from Old French, from Latin
cinnamōmum
, from Greek
kinnamōmon
,
probably of Semitic origin
; akin to Hebrew
qinnāmôn
.
Related Forms:
cinnamon
in sticks (left) and ground (right)
---
cinnamon
Noun
(countable and uncountable, plural cinnamons)
(countable) A small evergreen tree native to Sri Lanka and southern India, Cinnamomum verum or Cinnamomum zeylanicum, belonging to the family Lauraceae.
Several related trees, notably the Indonesian cinnamon (Cinnamomum burmannii) and Chinese cinnamon or cassia (Cinnamomum aromaticum or Cinnamomum cassia).
(uncountable) A spice from the dried aromatic bark of the cinnamon tree, either rolled into strips or ground into a powder. The word is commonly used as trade name for spices made of any of the species above. The product made of Cinnamomum verum is sometimes referred to as true cinnamon.
Adjective
(not comparable)
Containing cinnamon, or having a cinnamon taste.
Of a yellowish-brown colour.
Origin
From Old French cinnamone, from Latin cinnamon, cinnamomum, from Ancient Greek κίνναμον (kinnamon) κινναμωμον (kinnamomon), from Phoenician, cognate with Hebrew קִנָּמוֹן (qinnāmōn).
---