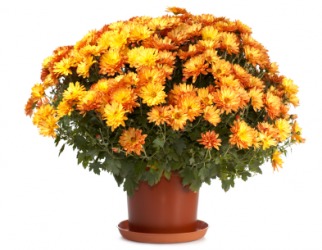 A pot of yellow chrysanthemums.
---
chrysanthemum definition by Webster's New World
noun
any of a genus (Chrysanthemum) of plants of the composite family, cultivated for their showy flowers which bloom in late summer and fall in a variety of colors, most commonly yellow, white, red, or purple
the flower
Origin: Modern Latin ; from Classical Latin ; from Classical Greek chrysanthemon, marigold, literally , golden flower ; from chrysos (see chrysalis) plush anthemon, a flower
Webster's New World College Dictionary Copyright © 2010 by Wiley Publishing, Inc., Cleveland, Ohio. Used by arrangement with John Wiley & Sons, Inc.
---
chrysanthemum definition by American Heritage Dictionary
noun
Any of numerous, mostly Eurasian plants of the genus Chrysanthemum in the composite family, many of which are cultivated as ornamentals for their showy radiate flower heads.
A flower head of one of these plants.
Origin: Latin chrȳsanthemum, from Greek khrūsanthemon, gold flower : khrūs-, khrūso-, chryso- + anthemon, flower (from anthos).