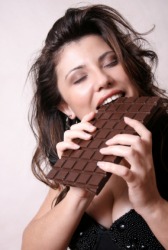 This woman might be a chocoholic.
noun
The definition of a chocoholic is a person who is obsessed with eating chocolate.

An example of a chocoholic is someone who has to eat chocolate every day.
---
chocoholic
Informal
a person who has an obsessive need to eat chocolate: a humorous, hyperbolic usage
Origin of chocoholic
choco(late) + -holic
---
chocoholic
noun
Informal
A person who frequently or compulsively eats chocolate.
Origin of chocoholic
choc(olate)
(alc)oholic
---
chocoholic

Noun
(plural chocoholics)
---