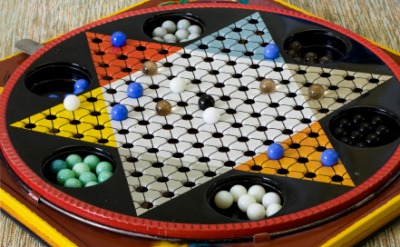 A Chinese checkers game.
---
Chinese checkers definition by Webster's New World
a game played on a board with holes arranged in the shape of a six-pointed star, by from two to six players, the winner being the one who first moves his or her set of marbles across the board
Origin: probably so named from the characteristic ornamentation of the board
Webster's New World College Dictionary Copyright © 2010 by Wiley Publishing, Inc., Cleveland, Ohio. Used by arrangement with John Wiley & Sons, Inc.
---
Chinese checkers definition by American Heritage Dictionary
plural noun
(used with a sing. or pl. verb)
A board game in which each player tries to move a set of marbles arranged in holes from one point of a six-pointed star to the opposite point by means of single moves or jumps.