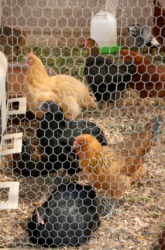 Chickens inside a pen made with chicken wire.
---
chicken wire
☆
light, pliable wire fencing, used esp. for enclosing chicken coops
---
chicken wire
---
chicken wire
Noun
(countable and uncountable, plural chicken wires)
(uncountable) a mesh of wire, usually galvanized, with a hexagonal pattern, generally used for making fences, especially for enclosures for small farm animals and pets.
(countable) a type of such material, differentiated by material, coating, wire thickness, width, and mesh size.
---