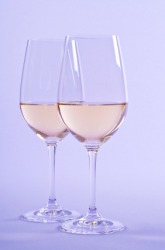 Two glasses of a white wine such as chenin blanc.
---
Chenin Blanc
a dry to semisweet white wine
the white grape from which it is made
Origin of chenin blanc
French ; from Old French
(reisin) chenin
, (grape) of the dog +
blanc
, white
---
Chenin Blanc
noun
A variety of grape originating in the Loire River valley that is used to make white wine.
A dry to sweet white wine made from this grape.
---
Chenin Blanc
Variant of chenin blanc
a dry to semisweet white wine
the white grape from which it is made
Origin of chenin blanc
French ; from Old French
(reisin) chenin
, (grape) of the dog +
blanc
, white