Chattanooga
[c̸hat′ə no̵̅o̅′gə]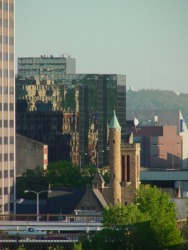 Downtown in Chattanooga.
---
Chattanooga
city in SE Tenn., on the Tennessee River at the Ga. border: pop. 156,000
Origin of Chattanooga
; from Amerindian (Creek or Cherokee); meaning uncertain
---
Chattanooga
A city of southeast Tennessee on the Georgia border southeast of Nashville. A major rail junction and port of entry on the Tennessee River, it was strategically important during the Civil War and was finally taken by Union forces in November 1863.
---
Chattanooga
---