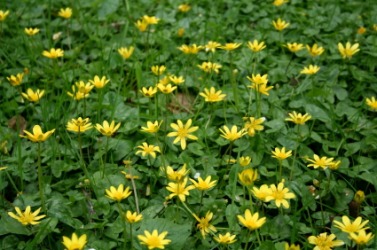 A field of yellow celandine flowers.
Licensed from iStockPhoto
---
noun
a weedy plant (Chelidonium majus) of the poppy family, with deeply divided leaves and yellow flowers and juice
a perennial plant (Ranunculus ficaria) of the buttercup family, with yellow flowers
Origin: Middle English and amp; Old French celidoine ; from Midieval Latin celidonia ; from Classical Latin chelidonia ; from Classical Greek chelidonion, swallowwort ; from chelidōn, a swallow ; from Indo-European echoic base an unverified form ghel- from source yell
Webster's New World College Dictionary
Copyright © 2010 by Wiley Publishing, Inc., Cleveland, Ohio.
Used by arrangement with John Wiley & Sons, Inc.
---
noun
A perennial Eurasian herb (Chelidonium majus) having deeply divided leaves, showy yellow flowers, and yellow-orange latex. Also called swallowwort.
The lesser celandine.
Origin: Middle English celidoine, from Old French, from Medieval Latin celidōnia, from Latin chelīdonia, feminine of chelīdonium, from Greek khelīdonion, from khelīdōn, swallow (from the association by ancient writers of the blossoming of the plant with the return of the swallows in spring); see ghel-1 in Indo-European roots.
The American Heritage® Dictionary of the English Language
, 4th edition Copyright © 2010 by Houghton Mifflin Harcourt Publishing Company. Published by Houghton Mifflin Harcourt Publishing Company. All rights reserved.