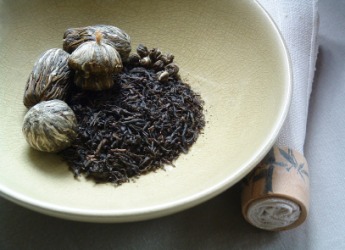 A celadon colored bowl.
Celadon is a muted jade green, often associated with a transparent glaze for pottery of the same name.
---
celadon
a pale grayish-green color
Origin of celadon
French
céladon
, a delicate green, earlier, a tender lover, after
Céladon
, hero in
Astrée
(romance, early 1600s, by H. d'Urfé, 1567–1625) from Classical Latin
Celadon
, character in the
Metamorphoses
of Ovid from Classical Greek
Kelad?n
---
celadon
noun
A pale to very pale green.
A type of pottery having a pale green glaze, originally produced in China.
Origin of celadon
French
after
Céladon
the central male character of L'Astrée, a widely read pastoral novel by Honoré d'Urfé (1568-1625), French writer (the character being associated with the color green in the popular imagination and probably dressed in a pale green costume in early theatrical adaptations, perhaps because of the association of the color green with amorous adventures)
after
Celadōn
a warrior briefly mentioned in Ovid's Metamorphoses
Related Forms:
---
celadon

Noun
(usually uncountable, plural celadons)
A pale green Chinese glaze.
Adjective
(comparative more celadon, superlative most celadon)
Of a pale green colour tinted with gray.
Origin
Borrowed from the French céladon from the character named Céladon, who wore pale green ribbons, in the novel "Astree" by Honoré d'Urfé, from Latin Celadon, a warrior's name in Ovid's "Metamorphoses".
See also:
céladon
---