noun
The definition of caviar is pickled or salted eggs of sturgeon or other large fish which is often eaten as an appetizer and is generally considered a delicacy.

Masses of eggs from a salmon that are spread on crackers and served in a very fancy restaurant is an example of caviar.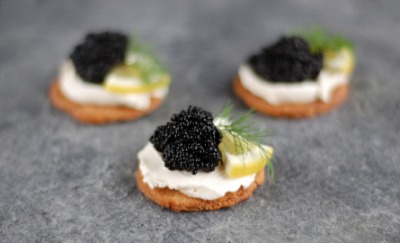 Toast and cream cheese topped with caviar.
---
caviar definition by Webster's New World
or caviare
noun
the salted eggs of sturgeon, salmon, etc. eaten as an appetizer
Origin: French ; from Italian caviale ; from Turkish khāvyār ; from Persian khāviyār ; from khāya, egg plush -dār, bearing: origin, originally , spawning fish, hence, roe
Webster's New World College Dictionary Copyright © 2010 by Wiley Publishing, Inc., Cleveland, Ohio. Used by arrangement with John Wiley & Sons, Inc.
---
caviar definition by American Heritage Dictionary
also cav·i·are
noun
The roe of a large fish, especially sturgeon, that is salted, seasoned, and eaten as a delicacy or relish.
Origin: Alteration of caviarie (probably from obsolete Italian caviari, pl. of caviaro) or from French caviare, both from Turkish havyar, from Persian khāvyār; akin to khāyah, egg, from Middle Persian khāyak; see awi- in Indo-European roots.
Word History:
Although caviar might seem to be something quintessentially Russian, the word
caviar
is not, the native Russian term being
ikra. Caviar
first came into English in the 16th century, probably by way of French and Italian, which borrowed it from Turkish
havyar.
The source of the Turkish word is apparently an Iranian dialectal form related to the Persian word for "egg,"
khāyah,
and this in turn goes back to the same Indo-European root that gives us the English words
egg
and
oval.
This rather exotic etymology is appropriate to a substance that is not to everyone's taste, giving rise to Shakespeare's famous phrase, " 'twas caviary to the general," the general public, that is.
The American Heritage® Dictionary of the English Language, 4th edition Copyright © 2010 by Houghton Mifflin Harcourt Publishing Company. Published by Houghton Mifflin Harcourt Publishing Company. All rights reserved.
---
caviar - Phrases/Idioms
caviar to the general
a thing appealing only to a highly cultivated taste: Hamlet II, ii