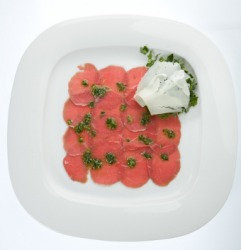 A dish of carpaccio.
---
carpaccio
noun
an appetizer consisting of very thin slices of raw beef served with a vinaigrette or a mustard sauce
Carpaccio, Vittore 1460?-1525?; It. painter
---
carpaccio
noun
Very thinly sliced raw meat or fish, especially beef or tuna, garnished with a sauce.
Origin of carpaccio
Italian, after Vittore
Carpaccio
,
who favored red pigments
.
---
carpaccio
Noun
(countable and uncountable, plural carpaccios)
---