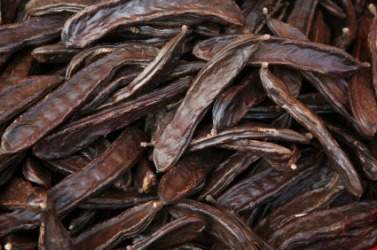 A large pile of ripe carob pods.
---
carob definition by Webster's New World
noun
a leguminous tree (Ceratonia siliqua) of the E Mediterranean, bearing long, flat, leathery, brown pods with a sweet pulp
such a pod, used for fodder or in making a nutritious, chocolatelike drink or candy
Origin: French caroube ; from Midieval Latin carrubia ; from Arabic kharrub, bean pod ; from Aramaic khārūbā ; from Assyrian kharūbu
Webster's New World College Dictionary Copyright © 2010 by Wiley Publishing, Inc., Cleveland, Ohio. Used by arrangement with John Wiley & Sons, Inc.
---
carob definition by American Heritage Dictionary
noun
a. An eastern Mediterranean evergreen tree (Ceratonia siliqua) in the pea family, having pinnately compound leaves and large, dark, leathery pods.

b. The pod of this plant, containing a sweet edible pulp and seeds that yield a gum used as a stabilizer in food products. Also called algarroba.

An edible powder or flour made from the ground seeds and pods of this plant, often used as a substitute for chocolate.
Origin: Middle English carabe, from Old French carobe, from Medieval Latin carrūbium, from Arabic ḫarrūba, carob pod; see algarroba.