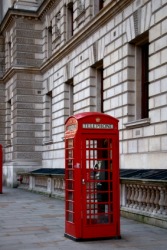 A call box in London.
---
call box
Brit.

telephone booth
a box, as on a post beside a highway, that holds a telephone for making emergency calls
---
call box
noun
A roadside telephone used for reporting traffic accidents, breakdowns, and other emergencies.
Chiefly British A public telephone booth.
---
call box
---