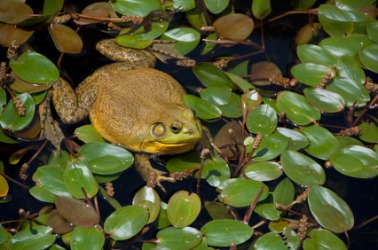 A large bullfrog surrounded by lily pads.
---
bullfrog
☆
noun
a large North American ranid frog (Rana catesbeiana) that has a deep, loud croak
Origin of bullfrog
bull- +
frog
---
bullfrog
noun
Any of several large, heavy-bodied frogs, especially Rana catesbeiana, native to eastern North America and introduced elsewhere, having a characteristic deep resonant croak.
bullfrog
male American bullfrog
Rana catesbeiana
---
bullfrog
Noun
(plural bullfrogs)
Any of various large frogs of genus Rana, that have a deep croak and are native to North America.
---