Bucharest
[bo̵̅o̅′kə rest′, byo̵̅o̅′-]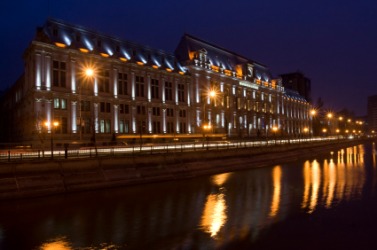 A night view of the Palace of Justice in Bucharest.
---
Bucharest
capital of Romania, in the S part: pop. 1,990,000
---
Bucharest
The capital and largest city of Romania, in the southeast part of the country on a tributary of the Danube River. Founded in the 14th century, it soon became a fortress and a center for trade between Wallachia and Constantinople.
---
Bucharest
Proper noun
The capital city of Romania.
Origin
Anglicization of Romanian Bucureşti, from Bucur (personal name) + -eşti ("patronymic, personal name suffix").
---