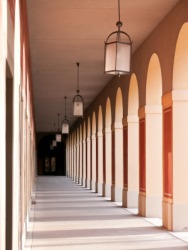 A breezeway at a museum.
noun
The definition of a breezeway is a walkway or passage that is outside but that has a roof.

An outside walkway between your house and garage that has a roof covering it is an example of a breezeway.
---
breezeway
a covered passageway, as between a house and garage, often enclosed on the sides
---
breezeway
noun
A roofed, open-sided passageway connecting two structures, such as a house and a garage.
---
breezeway

Noun
(plural breezeways)
A structure with a roof and open sides that connects two buildings.
---